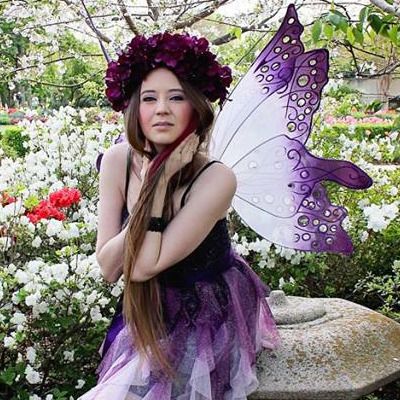 Sarah Alden
started her journey as a watercolor painter in 2001, but knew from a very young age that she wanted to be an artist. All of her prints are made in her studio where she's able to ensure every print's color is as close to the original painting as possible.
Follow Sarah Alden Art at:
Etsy
DeviantArt
Facebook
Instagram
Pinterest
Twitter
Website
What inspires you to make your creations?
My inspiration comes from many areas in life: nature, fairytales, personal experiences, family, friends, fashion, music, and daily life. One of the biggest reasons I love to paint Fairy art and Butterflies is because to me they represent the beauty of "Wild and Free." Really anything uplifting and inspiring, that's the beauty I want to share!
I love all things Fairy and fantasy. So, I have a deep love and passion for bringing my imaginative ideas to life on and off paper. I've always loved fashion and had my own unique sense of style. So I like to create beautiful fantasy inspired accessories and jewelry along with my art. Things that truly represents me and my brand.
What advice would you give to other Etsy sellers?
Be patient. It takes time to build up your shop and gain followers. Really focus on photographing your products with great lighting and non-distracting backgrounds; it truly does help. There are many blogs and youtube videos on how to improve with light boxes. The right lighting makes all the difference!
If you were a fantasy creature, what would you be?
If I could be any fantasy creature I would certainly have to be a fairy because of their gorgeous wings and the ability to weightlessly glide through the air, wild and free. Though more specifically, a Spring Fairy because it's my most favorite time of the year with all of the gorgeous Azalea flowers blooming.