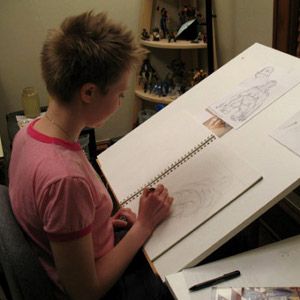 Fabled Earth Art
carries original art, note cards, sketchbooks and other goodies featuring fantasy paintings by Emily Fiegenschuh! Several of the available prints are illustrations from her how-to-draw book, The Explorer's Guide to Drawing Fantasy Creatures.
Follow Fabled Earth Art at:
Etsy
Blog
Website
What inspires you to sketch new art?
When pursuing personal work, I'm inspired by animals, nature, and mythology. I also feel compelled to create and draw interesting characters. Otherwise, I need to find inspiration within the subject matter of a job for a client. The majority of the artwork I do is illustration for tabletop RPG companies and young adult and children's books and magazines, all usually related to fantasy, mythology or science fiction in some way. As for the artists that influenced me the most, I wrote a
Top Ten Inspirational Artists
blog post awhile back.
What sparked your love for the fantasy genre?
I really can't remember how old I was! I've always been drawn to fantasy. At a very young age I was fascinated by dinosaurs. It was amazing to me that they existed. At the same time I was into dragons and other mythological beasts. Maybe, to me, dinosaurs were the real-life versions of these creatures. I was always drawing animal and monster characters. I was mostly interested in fantastic worlds with creatures and robots when I was a kid. As I grew older I realized that human characters in the same settings were also essential and just as exciting.
What goal do you hope to achieve with your artwork?
Other than making a living doing something I enjoy, what I most hope to achieve with my work is a connection with other people. If my work sparks a conversation or inspires someone, even in some small way, then I feel like I am doing my job. One of the best compliments I ever received at a convention was "Your artwork just makes me so happy!"