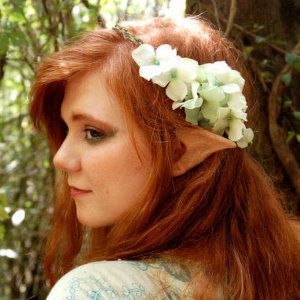 Once upon a time there was a little fairy named Miss Evergreen who lived in
The Evergreen Nest
. Customers can meditate upon her wish candles or pick out a beautiful handmade crown to magically transform a human into a fairy!
Follow The Evergreen Nest at:
Etsy
Blog
deviantArt
deviantArt 2
Facebook
Website
What sparked your love for fantasy?
I think I believed I was a changeling baby the moment I dragged Brian Froud and Alan Lee's "Faeries" off my grandfather's bookshelf when I was three or four years old. That book inspired me to delve headfirst into the fantasy world and I have yet to come back to reality.
What do you do when not crafting?
I am usually writing or taking photographs. I rarely go out without a camera or a notebook. At the moment, I am working on building up my blog and finishing my fantasy novel about shape shifting wolves. I try to draw and work on my painting as much as I can, but writing and crafting for my shop have kind of taken over my studio for now.
Do you have any pets?
I have two beautiful mutts I rescued. The oldest is named Dany. He is a huge furry black dog. The other is named Toby. He is a short little blonde puppy and the newest member of the family. I keep several beautiful beta fish in my room too. They are all named after my favorite fantasy characters.