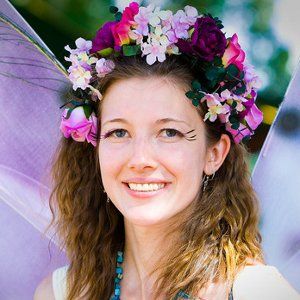 Get fairies at
Ethereal Earth
! Beautiful digital paintings by Alison Spokes are available on art prints, fantasy cards, key chains, glass pendants, kitchen magnets and more.
Follow Ethereal Earth at:
Etsy
Blog
deviantArt
Facebook
Google+
Pinterest
Twitter
How did you learn to paint digitally?
A lot of trial and error. I really just jumped in and tried it. My sister was the first one to prompt me to do it while she was tinkering with digital art in school. I rejected it at first because I found Adobe Photoshop too overwhelming. Later, I read a digital painting tutorial on Corel Painter by Nene Thomas in an issue of Faerie Magazine. I played with the brushes she recommended in her tutorial over top of a line drawing done by another artist just to get a feel for the brushes. When I found I was happy with the results, I gained the confidence to try painting one of my own drawings. The rest is history.
What inspires you to make your creations?
Nature. Colour. Costumes. I like to take real life animals and environments and give them an enchanted quality or persona. I also really like colour and pay a lot of attention to how they interact with each other. I can be inspired simply by a pallet. Often costumes will inspire me, and I'll create a character with a certain costume in mind and the rest of the image is built around that costume.
What sparked your love for fantasy?
I was probably around 8 years old when I fell in love with The Chronicles of Narnia. A few years later I discovered Labyrinth and The Princess Bride. As a teen a started reading (listening to) the Dragonlance series and played a lot of video games. At 19 I discovered fairy artwork and have been hooked ever since. My mother was/is a fantasy geek; my father was a sci-fi geek, so I had a lot of parental influence. I think I took a little more after my mother in this case.