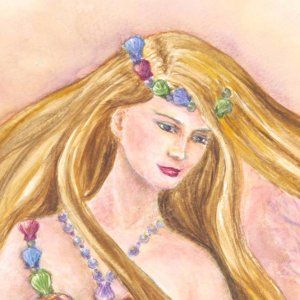 Cristina Recto-Hansen of
CristinArt
has been practicing art professionally since 1988 and several of her original paintings reside in private collections of notable art collectors. But anyone can afford her beautiful reproductions on photo prints, fantasy cards and ceramic mugs.
Follow CristinArt at:
Etsy
Facebook
Website
What sparked your love for fantasy?
As a young child I would always watch my grandma paint. She painted me a mermaid on my school pencil box and that all started my love for mermaids and the fantasy realm.
What inspires you to make your creations?
I usually get inspired by anything in nature. I love to draw and paint mermaids, flowers, birds and most anything to do with the sea and its creatures. As far as art influences, I love the works of Flemish artists, the Italian artists Raphael and Botticelli. I also appreciate art nouveau styles and the impressionists.
Do you have any pets or children?
I am married and blessed with a loving daughter who loves cats like I do. We take care of a mixed siamese lynx cat who is forever vocal and noisy.