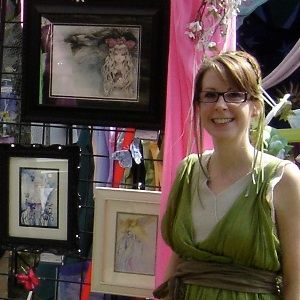 Shannon Valentine
is fantasy artist who's been creating fairies, angels, unicorns and other magical creatures since she could hold a pencil. Her Etsy shop offers limited edition prints, fantasy cards, glass tile jewelry and more featuring reproductions of her original pencil drawings and watercolor paintings.
Follow Shannon Valentine at:
Etsy
deviantArt
Facebook
Twitter
Website
What is your favorite fantasy book/movie/series?
Disney's Sleeping Beauty was highly influential to me in developing my art style. I was given the book as a child, which contained art by Eyvind Earle, who is one of my favorite artists. I then saw the movie and it remains a favorite to this day. My favorite fantasy books are by JRR Tolkien, Lloyd Alexander and Peter Beagle.
Do you have any pets or children?
I'm a gardener and consider my plants and trees my children. I have a young pine tree I call 'Junior' that I've raised from a seedling. It's over 9 feet tall now.
How did you meet your husband?
I met Jay over a decade ago in the SCA. He was a heavy-weapons fighter and tried to talk to me while in full armor. According to him, I blew him off - twice. Honestly, I didn't notice him until I saw him in formal medieval garb (not armor) at a coronation event. I was instantly attracted to him and asked my friend if he was single and local to our area. I gently flirted with him during the rest of the event and he eventually asked me out. We've been together enjoying life even since.