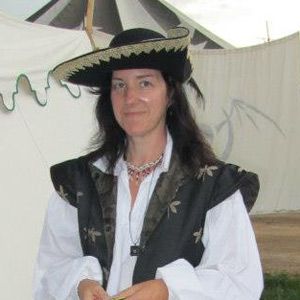 Rhonda of
Pagan Pixie
sews pirate costumes, Renaissance clothing and tarot bags. She also crochets pixie hats, arm warmers and many other fantasy accessories.
Follow Pagan Pixie at:
Etsy
Facebook
Pinterest
Twitter
What sparked your love for fantasy?
I can't remember a time when I didn't love fantasy. I've always been interested in the paranormal, faeries, magic, etc. I didn't read my first fantasy book until I was in high school, though. My boyfriend at that time gave me his copy of The Sword of Shannara and I loved it! That book opened up a whole new world for me and led me to where I am now.
If you were a fantasy character or creature, what would you be and why?
Definitely a vampire ... because they're just cool. :)
What do you do when not crafting?
I write, read a lot, camp. I'm a die-hard fan of Kentucky basketball. I also like playing with my cats (we have 5) and spoiling my nephews and niece.