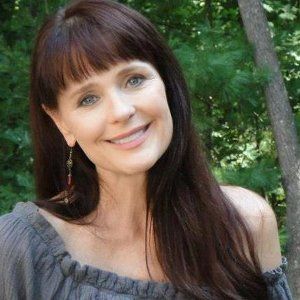 Shell of
Faerie Wickets
and her family have grown a handmade line of whimsical and mischievous delights. Her Etsy shop is a garden of fairy crowns, feather headbands, art masks and fantasy cards.
Follow Faerie Wickets at:
Etsy
Facebook
Pinterest
Website
How did you come up with your shop name?
I believe it was a gift that just came to me. Here is the definition I give from Webster's Dictionary.
Faerie: A mythical being of folklore and romance usually having diminutive human form and magic.
Wicket: A small gate or door.
I love the idea of a faerie door opening into a world of enchantment!
What do you do when not crafting?
I am a writer. That is my first passion. I used to write for children shows, was one of the original Power Ranger writers and have written a variety of other things, documentaries, a few movies, nothing major and it was from another life long ago. I actually have the first book in a trilogy completed and am about to go into a period of editing. It is hard to find the time to settle down as I tend to get lost in my worlds and find it very disorienting to be ripped away to drive carpool or start dinner! I cannot write when my family is in the house. Being a Mom means always being on call to find things that you really shouldn't know where they are but somehow you do ... like my husband's drum keys or my daughter's bass tuner ... they are both in gigging bands, thus the moniker Roadie Mama!
What would you like to be remembered for when you are gone?
I would like to leave behind a legacy of beauty, magic, kindness and know my daughter is carrying on the traditions we have given her as they were passed down to us. We all live on in other forms. I see my father's hands when she splays her fingers and plays the bass ... her grandfather's eyes ... we think her nose is my Aunt Nola's. Genetics, DNA ... ancient memories ... to believe in something more is such a gift.