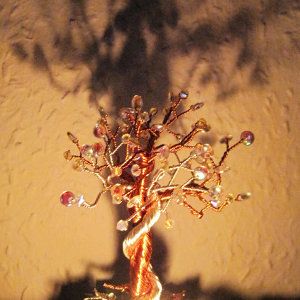 Eirini of
Dromme Lund
started crafting copper tree sculptures when she was 18 years old. She now sells her art on Etsy as tea light holders, window suncatchers, Christmas ball ornaments and other beautiful home decor products.
Follow Dromme Lund at:
Etsy
Blog
Facebook
How did you come up with your shop name?
I decided to open my shop and share my art with the world once I moved to Denmark. I really wanted to work with my art and my husband supported the idea. I'm not all that good in Danish, but my English is rather good so at first I decided to name my shop Mystic Grove. Then I asked the opinion of a friend and she told me that it didn't sound right ... So I decided to name my shop in an unusual way. Since I do live in Denmark now, I decided to use Danish instead. Drømme Lund means Dreamy Grove and I think the name embodies everything my art stands for. The ability to use our imagination and walk into enchanting, dreamy forests :)
What sparked your love for fantasy?
Hmm.. I must have been younger than 10. Someone has bought a book of Hans Christian Andersen but it was in English. I didn't know the language back then, but I enjoyed looking at the photos and imagine what the book was about. The thing that opened my mind, soul and heart to fantasy was The Hobbit by J.R.R Tolkien. I was mesmerized and this book made me dream of fantasy worlds every night. I was 16 at that point :)
If you were a fantasy character or creature, what would you be and why?
I would like to be an elf in Middle Earth. I love the ethereal beauty and their wisdom, but honestly, I think I would be a hobbit because of my love of food, drink and nature :)