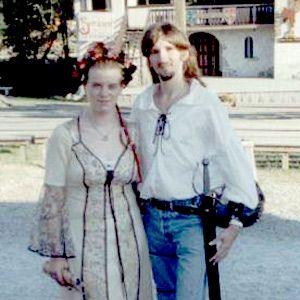 Tadd of
Hawkwolf's Armory and Accoutrements
preys upon chains to handmake metal jewelry, Renaissance accessories and juggling toys.
Follow Hawkwolf at:
Etsy
Facebook
Pinterest
Twitter
Website
How did you come up with your shop name?
It's a geek thing ... LOL! Hawkwolf was always the name I gave my characters in Dungeons and Dragons, all the RPGs I played on paper, or in video games.
How did you learn your craft?
I actually learned from the internet! Since I've been doing this perhaps my favorite thing to do is wrapping cabochons and incorporating them into necklaces and bracelets/anklets. I've been finding all sorts of ways to combine different metals and stones for beautiful (and fun) effects.
What sparked your love for fantasy?
I think I've always loved fantasy, it's just the idea of a time when men and women lived for honor, deeds of worthiness, and truth, and the willingness to put your life on the line to defend it.