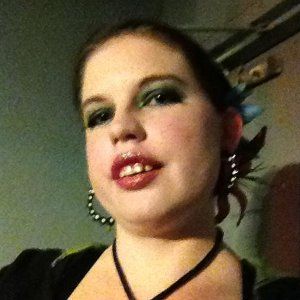 AJ of
Erthe Fae Designs
makes a variety of steampunk and tribal jewelry, from beaded necklaces to chandelier earrings, crystal bracelets to unique anklets and more. Every one-of-a-kind item is handmade in Arizona with a dazzling variety of beads.
Follow Erthe Fae Designs at:
Etsy
Blog
Facebook
Pinterest
Twitter
How did you come up with your shop name?
Ok, I was a 16 year old roleplaying nerd. I didn't give any thought to the fact that my name should be something that people would remember how to spell. So I named it for a world I set some games and stories in (Erthe) and one of the races that lived there (human-sized faeries, aka Fae), with a Designs at the end for good measure. On the upside, I can always get the user name I want on whatever site I go to!
What advice would you give to other Etsy sellers?
Diversity! Don't just rely on Etsy, Facebook and Twitter to advertise your work. Get out there and do some craft shows, gift your work to friends (mine continually get asked where they got that fabulous necklace, and then direct *their* friends to my shop). If you make something wearable, wear it all the time! Always carry business cards!
What do you do when not crafting?
I am a semi-professional tribal fusion belly dancer, performing as a soloist and as part of the Best Troupe Ever (in my totally biased opinion). I'm an avid reader and I love to write, though these days my writing is mainly focused on blog posts. My blog
Politely Worded
on civil communication often features letters from FAEteam members. I also love tabletop roleplaying games like Earthdawn and Legend of the 5 Rings, and I'm currently playing Guild Wars 2.